Luxurious Carpet Flooring in Duncan, OK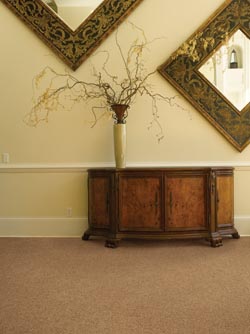 Make your rooms more inviting with new carpet from Allison's Flooring America. Our local store is the place to go for comfortable carpet flooring in Duncan, OK. We offer a diverse array of designs and textures, as well as professional installation services. No matter what style you ultimately choose, you can count on our team to ensure it looks just as great in your room as it did in our store.
Discover a Carpet Style You Love
Modern carpets have a lot to offer to homeowners and business owners. They look and feel better than ever before, not to mention they are more difficult to stain and damage. In fact, there are even some waterproof carpet options available. Whether you want carpeting in your living room to make it feel more comfortable and welcoming, or carpeting in the playroom where kids will spend time moving about and making messes, we have a carpeting option that perfectly suits the needs of every space.

Visit our carpet store today to see the products we have available in person, and find the perfect flooring for your renovation project. We carry popular brands like Tigressá®, Innovia®, and Resista®. Furthermore, we sell a wide range of carpeting styles, including:
Texture Carpet
Saxony Carpet
Pattern Carpet
Frieze Carpet
Loop Carpet
Area Rugs
Whether you are looking for something vibrant and contemporary or something more subtle and classic, we've got options for you. Talk to our carpet store's team members about your design preferences, practical needs, and price range to get a personalized product recommendation. While you're there, also ask about our various warranties that help to ensure you are happy with your carpet installation, and your carpets themselves.
Contact us to learn more about our carpet products and our installation services. We proudly serve the residents of Duncan, Marlow, Bray, Chickasha, and Velma, Oklahoma, as well as the nearby communities.