Hardwood Floors in Duncan, OK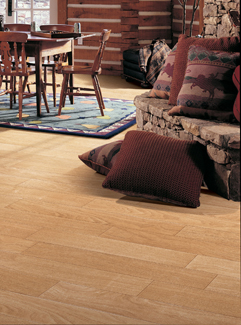 The luxurious look of hardwood flooring is ideal for enhancing your home or business. When you are ready to upgrade old flooring and take interior design to the next level, you cannot go wrong by choosing hardwood floors. Not only does hardwood enhance the aesthetics of any area or room, but it also significantly increases your property value. For outstanding and enduring results, it is essential you invest in the right product, whether you prefer solid or engineered hardwood flooring. It is equally important to seek professional flooring installation. If flooring replacement is the next project on your home improvement list, now is the time to turn to our team of experts. Throughout this flooring process, you can depend on the professionals from our business to provide the assistance you need—from selection to installation.
While solid hardwood flooring is the traditional choice, engineered wood is quickly increasing in popularity. The unique design of engineered hardwood features different layers of wood bonded together. Topped with a thin veneer of stained and finished wood, this engineered alternative looks and feels like solid wood once placed in the home. Because of the way engineered wood is manufactured, it is less likely to warp or swell in environments with high amounts of moisture, like the kitchen, bathroom, or basement. This allows you to feel confident installing it in areas of your home where solid hardwood floors may not work as well. Engineered wood is a flooring option that costs less than other options.
If you appreciate the style and timelessness of solid wood, shop the impressive selections we carry. Our store offers the latest collections from industry-respected brands. Whether you are looking for hardwood that is simple and classic or sleek and modern, we have the ideal solution available at our local showroom. One of the characteristics that makes solid hardwood flooring a wise investment for any homeowner is the fact that it can be refinished. When wood planks become worn and scratched, they can be sanded and refinished several times during their lifespan. As you would expect from product made of solid wood, these floor coverings have impressive longevity - lasting for up to 100 years.
Swift & Skillful Hardwood Flooring Installation
Once you make a confident purchase, we immediately schedule a time for installation. This guarantees you can start enjoying your new hardwood as soon as possible. Our technicians arrive at your home on the day of the hardwood flooring installation ready to complete the job in a single visit. We send experienced professionals to your home for installation that makes your flooring look its beautiful best, as well as add years to its life expectancy. Professional installation ensures that your wood floors are protected from damage and adhere securely so they do not shift around. When installing solid hardwood, we bring the flooring to your home or business three days in advance. This gives the planks a chance to adjust to the humidity levels in your house so the wood is ready for installation when our professionals arrive on time.
Our store is so confident in our in-house installers that their work is supported by impressive guarantees, like the Lifetime Installation Guarantee. Should you experience installation-related problems over the lifetime of your floors, the installers make it right free of charge. Our flooring store provides our customers with a number of similar guarantees, which are the strongest in the industry. Along with lifetime installation, we provide price protection with our store refunding the difference if you find the same flooring at a lesser price within 30 days. There is also Confidence Plus. If you do not love your 4-Star or 5-Star flooring, get in touch with us within 30 days and we replace it free of charge. All of our guarantees fall under our most notable warranty – the Ultimate Confidence Guarantee. This is our promise to you that you can feel confident about shopping with us for we back up all of our products and services. Our goal is complete customer satisfaction.
Hardwood flooring has remained a favorite among homeowners for decades. Its natural strength and beauty make it ideal for placement in any home. With countless attractive stains, species, and finishes to choose from at our store, you are sure to find an option perfectly suited for your space. As soon as you walk into our location, we make it our mission to help you through the shopping experience. We offer a variety of stunning collections, and are happy to guide you toward planks most likely to satisfy your expectations. No matter what you have in mind in terms of performance, placement, or price, we have you covered.
First-Rate Hardwood Flooring Brands
Ask our sales and design professionals for assistance in choosing hardwood for your home. Our experts know all about different brands, as well as decorating styles. One of our professionals is happy to share with you important information on the various brands we carry. Our extensive selection is made up of brand names from trusted manufacturers that include the following:
Anderson – Anderson is a manufacturer known for quality and value. You can see this demonstrated in the selection of hardwood floors in a variety of styles – all designed to look beautiful and last for decades in your home or business.
Armstrong – Craftsmanship and fashion merge to create strong and stylish floor coverings. Find striking selections that range from traditional to trendy to ultra-modern. This company makes floors that show your personal style.
Bruce – This manufacturer offers great value for your flooring dollars. With Bruce hardwood, you have your choice of styles, species, widths, and finishes so you can enhance the aesthetic of your space.
Downs – Craftsmanship, performance, and style are words that describe the wood flooring that this company makes. This high-quality flooring resists scratches and stains and is available in a wide range of species.
Floorcraft – Whether you choose a domestic or exotic species, this manufacturer knows how to bring out the true glory of hardwood. Floorcraft combines cost-effective pricing with superior quality for flooring that your family can walk and play on for decades.
Mannington – Count on Mannington to deliver wood flooring that stands up to the wear and tear of daily living. Each of these offerings is treated with special formulas to resist scratches and protect this flooring from heavy foot traffic. Add fashion styles and colors to make these floor coverings irresistible.
Mohawk - This manufacturer has been making high-quality fashion flooring for more than a century. They use only the finest wood to make floors that enhance the design of any space and withstand the demands of busy households.
Shaw – Installing Shaw flooring in your home or business is a smart investment in your property. These wood floor coverings are made to bring visual appeal to any space and to pass the test of time. This collection offers quality and style.
Spotlight Values – Find wood floors that offer appeal and value in the Spotlight Values collection. Remodeling your home with flooring from this manufacturer provides high-fashion options that add elegance and warmth.

Upgrade old and outdated floors with exquisite hardwood flooring from industry-respected brands. Utilize the convenient contact form, or call <PHONE> at your earliest convenience to learn more about our selection before you stop by the store. We proudly serve clients from Duncan, Marlow, Bray, Chickasha, Velma, Waurika, Alma, Oklahoma, and beyond.