The Beauty & Value of Hardwood Flooring in Duncan, OK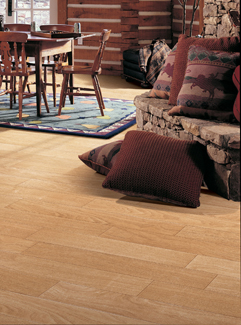 IImprove your home with the luxurious look of hardwood flooring in Duncan, OK. You can't go wrong with wood to upgrade your old floors and take your interior design to the next level. Not only does hardwood enhance the aesthetics of any room, but it also significantly increases the property value of your house. For outstanding and enduring results, it's essential you invest in the right product, whether you prefer solid or engineered hardwood flooring. It's equally important to seek professional flooring installation services.
First-Rate Hardwood Flooring Brands
Ask our sales and design professionals for assistance in choosing hardwood for your home. You can rely on our experts for guidance about the various brands and decorating styles. Our extensive selection is made up of brand names from trusted manufacturers.
The Classic Appeal of Solid Wood
When you appreciate the style and timelessness of solid wood, shop the impressive selections we carry. Our store offers the latest collections from industry-respected brands. Whether you're looking for hardwood that is simple and classic or sleek and modern, we have the ideal solution available in our showroom.
One of the characteristics that make solid hardwood flooring a wise investment for any homeowner is the fact that it can be refinished when the planks become worn and scratched. In fact, they can be sanded and refinished several times during their lifespan. As you would expect from a product made of solid wood, these floor coverings have impressive longevity, lasting for up to 100 years.
What Engineering Does for Wood Flooring
While solid hardwood flooring is the traditional choice, engineered wood a cost-effective alternative. The design of engineered wood consists of multiple layers of wood bonded together. Topped with a thin veneer of stained and finished wood, this engineered alternative looks and feels like solid wood once placed in the home.
Because of the way this product is manufactured, it resists swelling and warping in environments with high amounts of moisture such as the kitchen, bathroom, or basement. This allows you to feel confident to install it in areas of your home where solid hardwood floors may not work as well.
Swift & Skillful Hardwood Flooring Installation
Professional installation ensures your wood floors are protected from damage and are fitted securely. Once you make a confident purchase, we schedule a convenient time for installation. This guarantees you can start enjoying your new hardwood as soon as possible. Our technicians arrive at your home on the day of the hardwood flooring installation ready to complete the job in a single visit.
When installing solid wood, we bring the flooring to your home or business three days in advance. This gives the planks a chance to adjust to the humidity levels in your house, so the wood is ready for installation when our technicians arrive.
The Strongest Guarantees in the Business
Our goal is your complete satisfaction. We want you to feel as much confidence as we do in the work of our in-house installers, so we provide the Lifetime Installation Guarantee. Should you experience installation-related problems over the lifetime of your hardwood floors, the installers make it right free of charge. Price Protection refunds the difference in cost if you find the same flooring at a lesser price within 30 days. There is also Confidence Plus. If you do not love your 4-Star or 5-Star flooring, get in touch with us within 30 days, and we replace it free of charge. All our guarantees fall under our most notable warranty – the Ultimate Confidence Guarantee. We back up all our products and services, so you feel confident.

Upgrade old and outdated floors with exquisite hardwood flooring from industry-respected brands. Utilize the convenient contact form, or call (580) 786-4170 at your earliest convenience to learn more about our selection before you stop by the store. We proudly serve clients from Duncan, Marlow, Bray, Chickasha, Velma, Waurika, Alma, Oklahoma, and beyond.