Backsplashes in Duncan, OK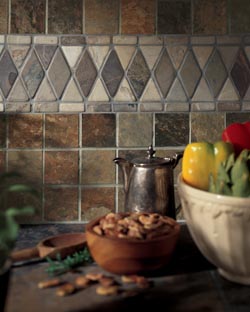 Kitchens aren't just for cooking; they're an integral part of your home's design statement. One of the best ways to show yours off is by upgrading to one of our backsplashes in Duncan, OK. We can arrange for the professional design and installation of a beautiful backsplash that's custom-made for your kitchen in the color scheme of your choosing. The right pattern can tie your décor together and give visitors an idea of your personality and the theme you've created in your home.
Once you've decided on a design, our team arranges the entire backsplash installation process. This way you know it's done right and that it will fit your wall properly. Proper installation work guarantees a longer lifespan and a more attractive look than work done by someone inexperienced. We're glad to take care of this for you so that all you have to think about is what it will look like.


Why Get a Backsplash?
Kitchen walls tend to attract water damage and stains, and our kitchen backsplashes protect them from that while adding a personal touch. We have unlimited options for colors and patterns, so you can truly let your artistic side run free and have an addition that's unique to your home. Plus, some of the best benefits of backsplashes are that they prevent pests and are easy to clean. Because the wall is sealed, bugs can't find their way into the kitchen through any cracks. The only cleaning that's required is simply wiping with a damp cloth or sponge.
We have several different materials for you to choose from, and each one has advantages we'll be happy to tell you about. However, the most popular of them all is tile backsplashes. These water and scratch-resistant surfaces protect your wall from mold and mildew and come in all kinds of colors. They're also easy to install, making for a quick and simple renovation.


Marble and Stone Backsplashes
Both of these materials have a timeless, classic quality that never goes out of date. This is combined with durability that's difficult to break and the ability to have any color you like. You can feel free to play around with textures and different types of stone too. Marble backsplashes lend an elegant look that's perfect for formal themes, and no two slabs are exactly the same. We can make either one of these high-end materials work well in your kitchen.



Contact us for an easy addition offering all you could want. We bring backsplashes to kitchens in Duncan, Oklahoma, and the surrounding areas.