Beautify Any Space with Luxury Vinyl Planks in Duncan, OK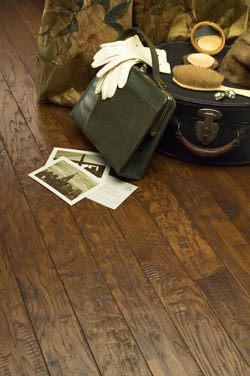 Steer your re-flooring project in exciting, new directions at Allison's Flooring America. As your source for luxury vinyl planks in Duncan, OK, we make it easier to improve the aesthetic appeal, strength, and value of your home. Visit our showroom and view our wide-ranging catalog. With our product selection, customer-oriented service, and professional installation services, you have everything you need to improve your home.
The Advantage of Luxury Vinyl
With its strength, beauty, and versatility, it is little wonder that luxury vinyl plank floor has become a popular choice among homeowners. It successfully unifies form and function to create a durable flooring surface that looks great in any room. There are many advantages to choosing this flooring material, including:
Durability: Luxury vinyl flooring is crafted from composite materials, giving it a solid surface that is tough on wear and tear, while remaining easy on the feet. This flooring resists bumps, scratches, and impacts. It's a smart addition to different rooms, especially high-traffic zones like hallways, living rooms, and kitchens.
Ease of Maintenance: The surface of luxury vinyl planks is largely non-porous. Thanks to the manufacturing process, this flooring material repels water and most liquids. As a result, spills and stains clear away with minimal energy and effort. In turn, you will spend less time and energy cleaning up and can do more of what you love.
Versatile Aesthetics: Thanks to advances in manufacturing, luxury vinyl successfully mimics the appearance of a variety of other flooring materials, such as ceramic and solid hardwood. This broadens your interior design options while keeping project costs sensible.
There are more benefits to this flooring, too: LVP installs quickly, as it can be placed over existing surfaces. The distinct composition of this flooring material also gives it good soundproofing capabilities. Now, you can enjoy improved acoustics in rooms with high activity — an option to explore if you have many people living in your home or host parties frequently.
Installation Available from Skilled Professionals
At our flooring showroom, you will find the materials and support you need to attain beautiful and strong interiors. We offer a stunning selection of LVP flooring in a variety of designs and styles from prominent brands. Your re-flooring options are virtually limitless. On top of that, our helpful associates are on-hand to assist. We facilitate interior remodeling consultations and make product recommendations that will meet your needs.
A successful installation of your new flooring will ensure it looks great and lasts a long time. Let us handle the hard work so you may enjoy the results. We offer luxury vinyl plank floor installation. Our installation team has the skill and experience to take on projects of nearly any size and scope. We work quickly and carefully to ensure you attain picture-perfect results.
Contact us to learn more about our selection of luxury vinyl planks. We serve customers in Duncan, OK, as well as Marlow, Bray, Chickasha, Velma, and the surrounding area.