Tile Flooring in Duncan, OK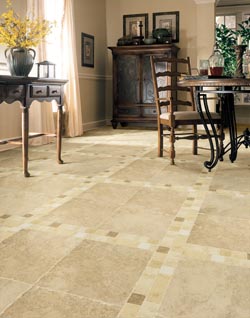 For decades, tile flooring in Duncan, OK, has remained one of the most popular flooring options among local homeowners. No matter where tile is placed in the home, it is capable of holding up well and looking great far into the future. Whether you are interested in placing new tile in a single room or throughout your entire home, we can ensure you get outstanding results. Our business is proud to offer exclusive selections and exceptional services that make any flooring replacement totally worthwhile. When it comes time to upgrade to ceramic, porcelain, or slate tile, we are happy to provide the assistance you need every step of the way. We help you determine the right product for your project, as well as ensure your investment continues to impress for years to come.
Ask our friendly sales and design professionals for help in choosing your new tile floor coverings. These professionals are experts as they have training and experience in product types and brands, as well as design. They are here to find you tile options that meet your lifestyle requirements and design preferences. The goal is to make sure you have tile flooring that that adds joy and beauty to your life and value to your property. Our flooring showroom is the place to discover hundreds and hundreds of options in tile--in different brands, shapes, sizes, and colors. Consider which of the basic types of tile is best suited to your home.
Carrying Classic Ceramic Tile
Ceramic tile is made from clay that is kiln-fired at high temperatures into a beautiful and durable surface material. Featuring decorative designs, hues, and textures, this type of tile is ideal for completing an interior design upgrade. Perfect for any surface, ceramic is commonly used on floors, backsplashes, and shower surrounds. Because of this, you often find tile in the bathroom or kitchen, but it is equally at home in the living room, dining room, or bedroom. This tile has a reputation of elegance as its refined style reflects well on any space in your home. Our selection of tile features the latest lines and collections from the industry's most respected brands. No matter what you have in mind in terms of style or price, you are sure to find the perfect ceramic product among our impressive inventory. Our sales and design professionals help you to choose ceramic that satisfies your design aesthetic.
Install ceramic with creativity and flair. This flooring surface readily lends itself to stunning design. Consider using different size, shapes, or colors to form a border. Make a design with different selections of tiles that serves as a focal point for a room. In addition to the standard grid of tiles, there are other decorating options, such as the brick floor and checkerboard patterns. Ceramic is a surface that makes flooring fun.
Popular Tile Also Available
Porcelain is a material that is naturally attractive and resilient. When it is used to manufacture tile, the end result is a product that adds a thoroughly contemporary look to any space in which it is placed. One of the reasons that porcelain is treasured as a flooring option is that it can serve as the focal point of a room, especially with creative design, or it can be that harmonizing feature that enhances the appeal of your individual home furnishings. As porcelain tiling has continued to increase in popularity, its reputation for high-end performance has grown. Porcelain is easy to clean and maintain for you only need to dry mop when it gets dusty and damp mop when it gets dirty. We advise using a tile-cleaning product for the best results.
Even the most active households can expect porcelain to repel damage. This is why porcelain tile is great for busy households with families and pets. The following are the different forms of wear and tear porcelain is capable of resisting:
Cracks
Scratches
Dents
Chips
Stains
Mold
Many homeowners appreciate the look of a natural stone to complement a space that boasts character and charm. If this is the type of design you desire, then consider upgrading your floors with slate tile. This natural stone tile may be exactly what you need to enhance surrounding furniture, paint, and décor. Slate is available in a number of rich earth tones, such as blue, gray, rust, gold, and green. This type of tile is dense and heavy for it is quarried from the earth. This also gives each slab a truly unique appearance, which is reflected in the individual beauty of each of the tiles. Our sales and design professionals would be happy to educate you about the benefits of slate as soon as you stop by the store.

Long-Lasting Tile Flooring Installation
Getting the floors of your dreams involves choosing the right product, along with investing in the proper installation. To ensure you are truly satisfied with your floors, entrust the installation process to our in-house team. The technicians we employ perform tile flooring installation with speed and skill, allowing you start enjoying your new floors as soon as possible. Even after the installation is complete, we remain committed to your satisfaction. Our business proves this by backing the efforts of installers with an unparalleled warranty system. According to the Confidence Plus Warranty, if you choose one of our 4- or 5-Star rated tiles and decide you are dissatisfied after living on it for 30 days or less, we replace it for free.

Upgrade your home with tile flooring from the industry's most trusted brands. Learn more about the lines and collections available at our location by using the convenient, on-page form, or by calling <PHONE> today. We proudly serve clients from Duncan, Marlow, Bray, Velma, and Alma, Oklahoma, as well as the nearby communities.