Vinyl Flooring in Duncan, OK, for Every Room in Your Home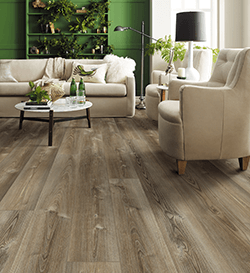 Simplify your approach to household maintenance with flooring that can keep up with your lifestyle. At Allison's Flooring Outlet, we know how hard it can be to clean, refinish, and generally maintain floors at home. That's why we carry a large selection of hardy, yet beautiful and easy-to-install vinyl flooring. In Duncan, OK, our showroom is your first destination for high-quality floor products.
Explore Vinyl
The best way to get acquainted with vinyl flooring is by visiting our showroom and touring our products in person. This way, you can touch and evaluate each option yourself, as well as enjoy the benefit of personalized assistance from our friendly staff. They can answer your questions and point you in the right direction based on any input you provide about your needs. Read on to find out more about your options.
Vinyl Tile Flooring: Are you thinking of reflooring your bathroom or kitchen, but unsure on the specifics? Traditional ceramic tile may be your go-to for such projects, but don't decide just yet. Vinyl could have all the benefits you're looking for and more, including increased durability, water resistance, and ample color and style options.
Vinyl Sheet Flooring: If your heart is set on vinyl but you're concerned about installation complications (such as seams), we heartily recommend vinyl sheet floors. With help from the right installers, it's easy to place these anywhere in your home and get a seamless look. It comes in rolls, which helps to keep the process simple.
Vinyl Plank Flooring: Many of the families that visit our showroom are in love with hardwood, but not its maintenance requirements. We're happy to say that they found a beautiful, durable alternative in our vinyl plank products. Vinyl plank imitates the appearance of true hardwood, but is far more enduring and easier to care for.
Ask About Pro Installation Services
When compared with other flooring products, vinyl offers much more in the way of durability almost all across the board. However, the secret to its strength and longevity lies in the quality of the installation. That's why it's so important to opt for professional vinyl flooring installation services. Not only does professional installation support your floors, it ensures you get the most out of your latest home investment.
Talk to a member of our staff once you've settled on a product. We'll discuss your installation needs in the context of your renovation/remodel, and then connect you with an installation contractor we trust.

Contact our showroom today to learn how we can help you find the perfect vinyl flooring product for your next project. We proudly serve residents of Duncan, Oklahoma, and nearby areas.